Experience the Apple BBQ Festival and Beyond in Silver Lake and Hart
As the leaves begin to change, the areas of Silver Lake and Hart, Michigan come alive with a buzz of activity. Our quaint towns hum with an energetic vibe, hosting a selection of engaging local events and enticing outdoor ventures. Notably, the Apple BBQ Festival serves as a delightful epicenter of seasonal festivities, a must-attend experience of culinary delight and fun.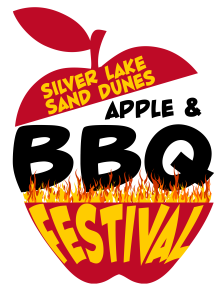 Apple BBQ Festival
Emblematic of autumn's arrival in Silver Lake and Hart is the much-anticipated annual Apple BBQ Festival. Scheduled for September 8-9, 2023, this cherished community gathering marries an exciting celebration of scrumptious barbecue, succulent apple pies, and a medley of entertaining activities. The two-day affair promises a fusion of delectable cuisine, thrilling ventures, and upbeat music, nestled within the picturesque backdrop of Silver Lake.
Here's a glimpse of some primary events and activities planned for this year's festival:
Friday, September 8th, 2023:
Food vendors operating from 2:00 pm to 9:00 pm, offering a wide selection of tasty treats.

Family-friendly activities from 2:00 pm to 8:00 pm, including yard games, a blow-up castle and rock-climbing slide, face painting, pony rides, gelly ball and axe throwing.

The Beer Tent, serving refreshing beverages from 4:00 pm to 9:00 pm.

Live musical performances on the Festival Stage, featuring the The Beach Katz from 6:30 pm to 9:00 pm.
Saturday, September 9th, 2023:
Kickstart the day with the "Apple A Day 5K Run/Walk" at Mac Woods Dune Ride, with registration beginning at 8:00 am.

An Arts & Crafts Show from 10:00 am to 5:00 pm, showcasing a variety of handmade goods with 125+ vendors.

Food vendors serving a delicious variety of cuisine from 10:00 am to 9:00 pm.

Exciting live music performances throughout the day, including Jonathan James from 1:00 pm to 3:00 pm, the Ben Traverse Band from 3:30 to 6:00 pm and the Kevin Wolf Band from 6:00 pm to 9:00 pm.

The Classic Vehicle & ORV Show at Dunetown Mall from 10:00 am to 2:00 pm with live music as well featuring the Silverado Band from noon – 2:00 pm.

The much-awaited Apple Pie Contest Check-In at 11:00 am, with awards announced at 1:30 pm.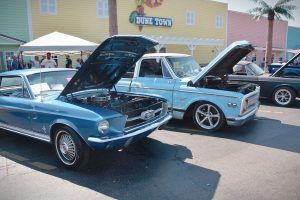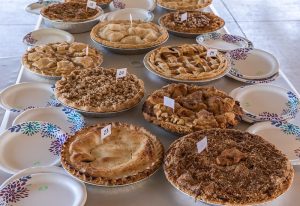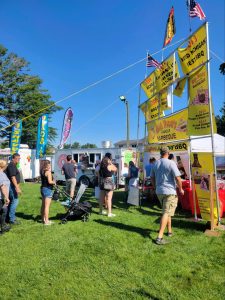 Learn more about the Apple BBQ Festival by visiting their website.
More To Explore In The Silver Lake Area
Beyond the tantalizing Apple BBQ Festival, Silver Lake and Hart house an array of other local events that add vivacity and diversity to the culmination of summer and dawn of fall.
The Oceana County Fair (August 16-19 Carnival & Midway open, August 22-26 all parts of the fair open) creates a festive ambience brimming with food, fun, and festivities, perfectly rounding off the summer. Concurrently, the Hart Area Heritage Day on September 2nd revives the past in the Hart Historic District, marking 35 years of preserving local traditions.
The celebration continues with Hippie Fest (September 9-10), an essential event for free spirits. This bohemian fete transports you back to an era of peace, love, and grooviness with its Woodstock Tribute, DIY tie-dye activities, vintage car show, and more. It's a grassroots gathering offering a unique, nostalgia-infused experience.
Be it a resident or a tourist, Silver Lake and Hart keep the excitement alive as summer recedes and the comforting aura of fall sets in.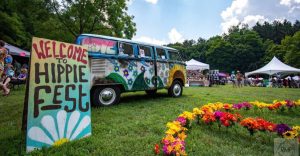 Embrace The Outdoors
The transition from summer to fall further enhances the natural allure of Silver Lake and Hart. The kaleidoscope of changing hues provides a mesmerizing setting for a host of outdoor activities.
A top recommendation for nature enthusiasts is the William Field Memorial Hart-Montague Trail State Park. This asphalted, 22-mile trail is a wonderful venue for cycling, hiking, and inline skating, known for its scenic vistas of apple orchards, farms, and woodlands. For a comprehensive guide on our stunning trails and parks, make sure to read our blog post, Oceana County's Outstanding Trails and Parks.
No visit to Silver Lake is complete without a trip to the dunes. The Silver Lake Sand Dunes are a marvel of nature, best experienced through an off-road escapade. Two local firms, Silverback OffRoad ORV Rental and SunBuggy Silver Lake ORV Rentals, offer ORV rentals until October 31st, allowing you to relish the thrill of dune driving firsthand.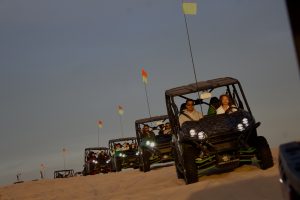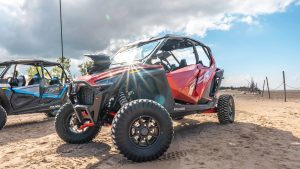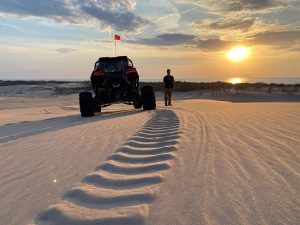 Experiences For All
So, note the dates and get ready to experience the seasonal splendor in Silver Lake and Hart. From the scrumptious Apple BBQ Festival to the gamut of local events and the draw of outdoor activities, there's an experience to thrill and inspire all. We eagerly await your arrival to celebrate the season together!
#ThinkDunes
What do YOU love most about the Silver Lake area? Share your shots with the tag #ThinkDunes for a chance to be featured.