Savor the Seasons of Silver Lake
As the vibrant greens of late summer transition into the vivid hues of fall, the Silver Lake region unfolds its unique charm and beauty. The changing seasons offer an array of captivating activities, from tasting the flavors of the season to tranquil nature exploration. Here's a guide to soaking in the best of Silver Lake's autumnal allure from late August through October.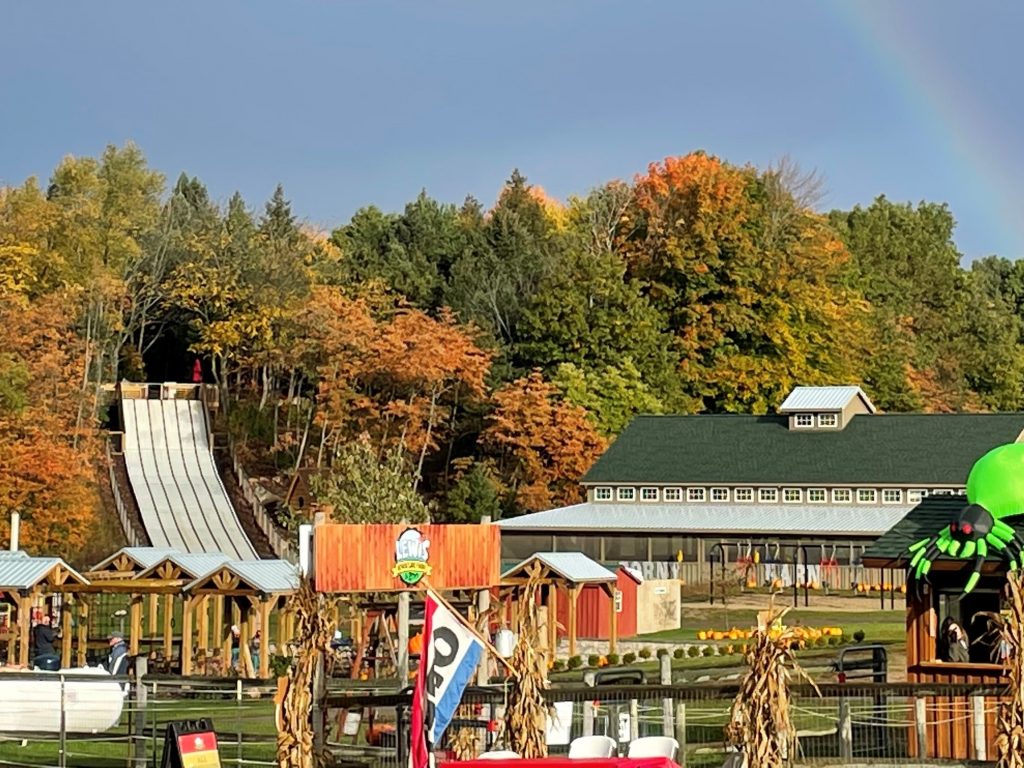 Savor the Harvest
As the Silver Lake area transitions from late summer to autumn, the vibrant agricultural landscape bursts into activity. Enjoy the wholesome experience of hand-picking peaches and apples at local orchards, find your perfect Halloween pumpkin at Lewis Adventure Farm & Zoo, or indulge in a scenic hayride. Don't miss out on the seasonal splendor at local farm markets like Woodland Farm Market and Bakery, Up North Farm Market, and Country Dairy, where fresh dairy products, and an array of other locally-sourced produce capture the essence of the harvest season. Embrace the farm-to-table spirit and savor the autumnal flavors Silver Lake has to offer.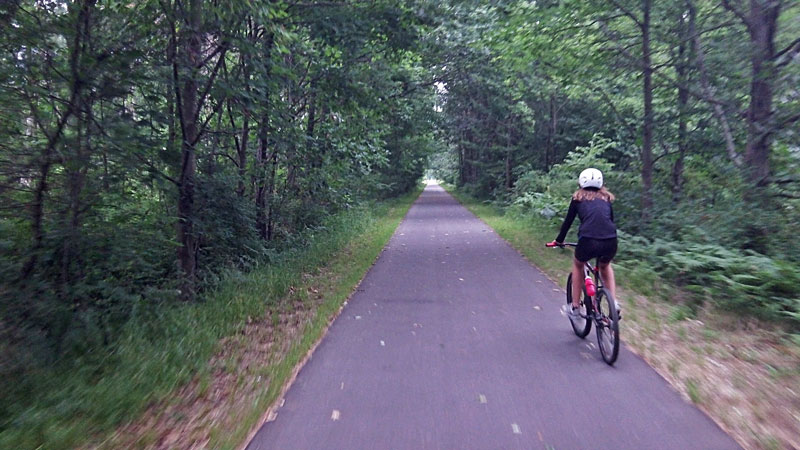 Trails for All Seasons
The region's numerous trails provide the perfect backdrop for late summer and fall excursions. Bike or hike the William Field Memorial Hart-Montague Trail State Park, where the changing leaves create a mesmerizing tapestry of color. For more trail options, check our blog post, Oceana County's Outstanding Trails and Parks.

Silver Lake Sand Dunes
The fun at the Silver Lake Sand Dunes isn't confined to summer! Until October 31st, you can enjoy an exciting off-road adventure on the dunes. Local companies such as Silverback OffRoad ORV Rental and SunBuggy Silver Lake ORV Rentals offer all the gear you need to satisfy your thirst for adventure amidst the autumn beauty.
Autumn Color Tours
One of the quintessential fall activities in Silver Lake is embarking on a color tour. As the leaves change, the area transforms into a vivid palette of red, orange, and yellow. We have curated a map to follow for the perfect tour of the region, guiding you to the best seasonal stops, views of fall landscapes, providing fantastic photo opportunities and memories to last a lifetime.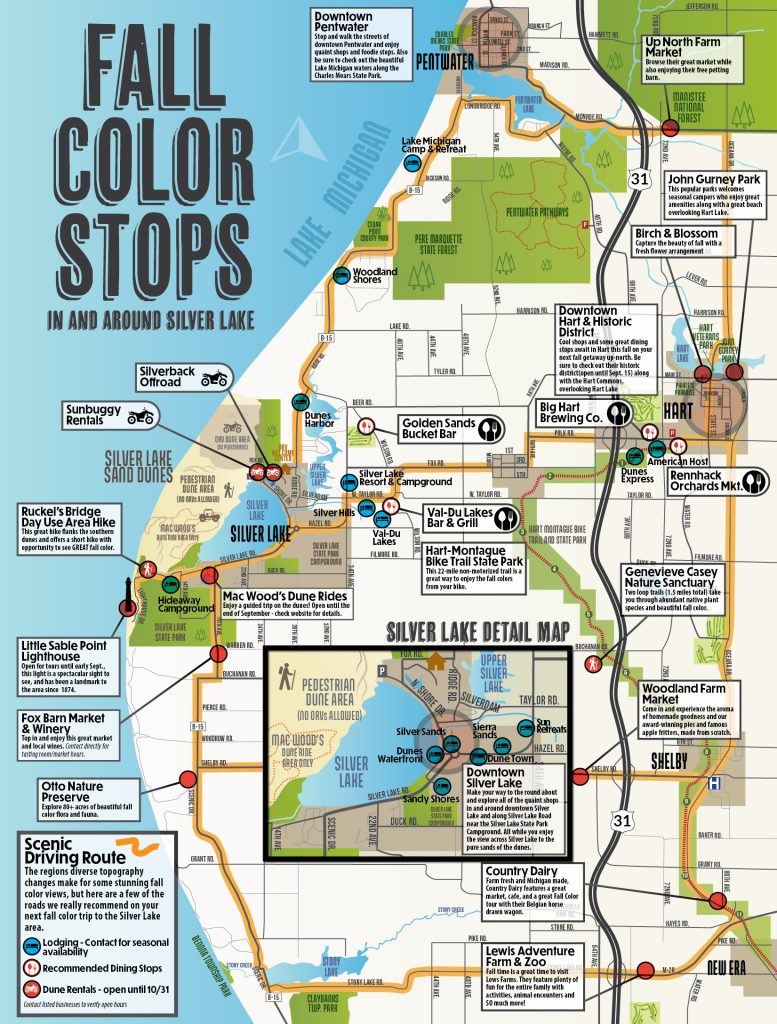 Seasonal Delights
Silver Lake's food and drink scene shines in late summer and fall. Enjoy the fresh catch of the day at a local seafood spot, or savor seasonal dishes at farm-to-table restaurants. While on your tour, don't miss the autumnal brews at local breweries like Big Hart Brewing Co., or visit Golden Township's Fox Barn Market & Winery for some delightful local wines. Check hours before heading out, as some businesses have seasonal changes.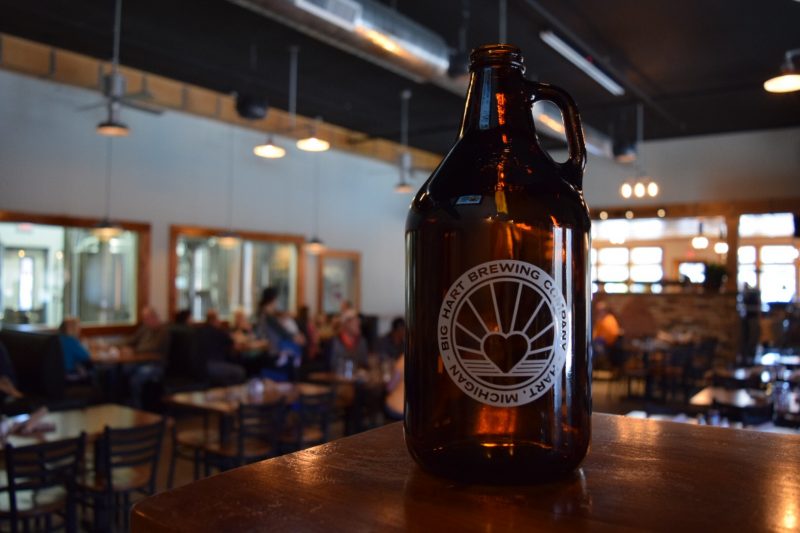 Shop Local
From late summer into the fall, Silver Lake and Hart's local businesses offer unique finds. You'll discover everything from handmade crafts to antiques, along with seasonal goodies like locally made jams, honeys, and pickles made from the bounty of the fall harvest.
Something For Everyone
Experiencing Silver Lake from the late summer into fall is a feast for the senses. Whether you are a thrill-seeker, a foodie, a nature lover, or a community-oriented visitor, there's something for everyone. Pack your sunhat and your cozy sweater, and prepare to embrace the changing seasons in Silver Lake. Plan your visit today!
#ThinkDunes
What do YOU love most about the Silver Lake area? Share your shots with the tag #ThinkDunes for a chance to be featured.