Explore Watercraft and Sandboarding Rentals
If you are a water enthusiast, Silver Lake is the place to be. Ranging from the magnificent views and entertaining activities, the opportunities here are endless. Whether you bring your own boat or rent a watercraft from businesses such as  Wave Club Water Sports,  you can explore the lake at your own leisure. Silver Lake has towering sand dunes on the west side of shore, which enables boaters to dock your vessel on the dunes for the day. There are watercraft rentals ranging from pontoon boats, wave runners, paddle boards, sail boats, kayaks, inner tubes, stand-up paddle boards and more. For our extremists, let's not forget there are sandboard rentals which are designed for individuals to glide down to the dunes and into the water. Calling ahead to reserve a rental is strongly suggested and from there your adventure awaits. 
How to Rent
Located under Rentals found within our website, is a list of businesses that offer watercraft rentals in the area. Contact one of the businesses to reserve your watercraft or water sport equipment on an hourly or daily basis and experience the adventure of Silver Lake.
Pontoon Boats
Grab your friends, a cooler and some snacks for your day on the lake on the pontoon! Strolling around the lake, tubing, or docking your boat on the shore of the dunes on the opposite side of the lake calls for the best lake day. There is a boat launch located just before the state park for the public if you bring your own watercraft. There are boat rentals as well at Wave Club Water Sports available on an hourly and daily basis.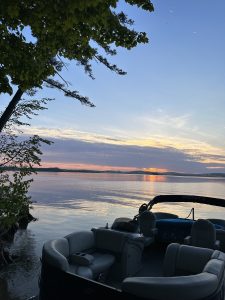 Kayaking
If you enjoy a calm and peacful stroll on the water, kayaking is the perfect way to have a relaxing time out on the water. This option is great for beginners to learn. The mechanics are easy to pick up on and within a few minutes you'll be able to encounter the beautiful sand dunes and other views along the water.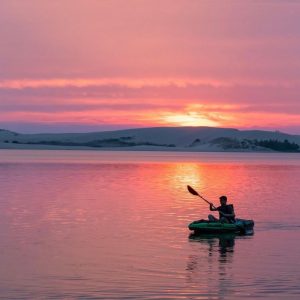 Wave Runner
Enjoy a day on Silver Lake skimming across the water in your own jet skii or a wave runner rental from Wave Club Water Sports. The entertainment is infinite, from riding some waves and cruising past the dunes Silver Lake is guaranteed to offer whatever experience you are wanting for out on the water.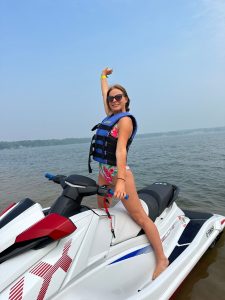 Sail Boats
Sail boating on Silver Lake is another creative way to undergo the waves out on the lake! When the wind is powerful enough, this boating option is a great way to move across the water. Ensuring your rental is the best way to gaurantee a watercraft for the day!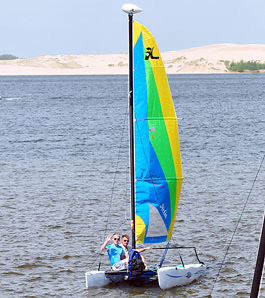 Stand-Up Paddle Boards
Choose your adventure with a stand-up paddle board. Paddle across beautiful Silver Lake to the sand dunes, which is great for exercise or leisure! Get out early on the water when it is calm for a peaceful and still morning. This watercraft option is a water sport where participants can paddle using their arms by laying down, kneeling or surfboard style.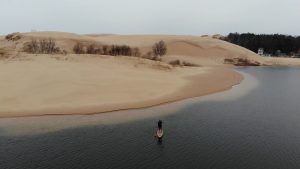 Picture Credit: MIPlayground
Sandboarding
Sandboarding is a board sport and extreme sport, but is for all ages! Similar to snowboarding, but instead you are drifting across or down a sand dune. Some boards are equipped with straps to keep your feet secured while others are without bindings. Experience Silver Lake sand dunes like no other with the ability to glide down the sand and into Silver Lake.
#ThinkDunes
What do YOU love most about the Silver Lake area? Share your shots with the tag #ThinkDunes for a chance to be featured.