3-Days at Silver Lake
Silver Lake is more than a destination for duners. In fact, it might just be one of the best destinations for days on end, full of family adventure. To prove this point, we have assembled a full 3-day itinerary to help you pack your days full of sun and fun in our Lake Michigan coastal locale.
Before you head this way think about accommodations that fit your stay style. Will you be camping? Staying at a lakeside resort or maybe a cozy cottage? There are many choices, but it is always best to plan ahead and reserve your spot.
Day One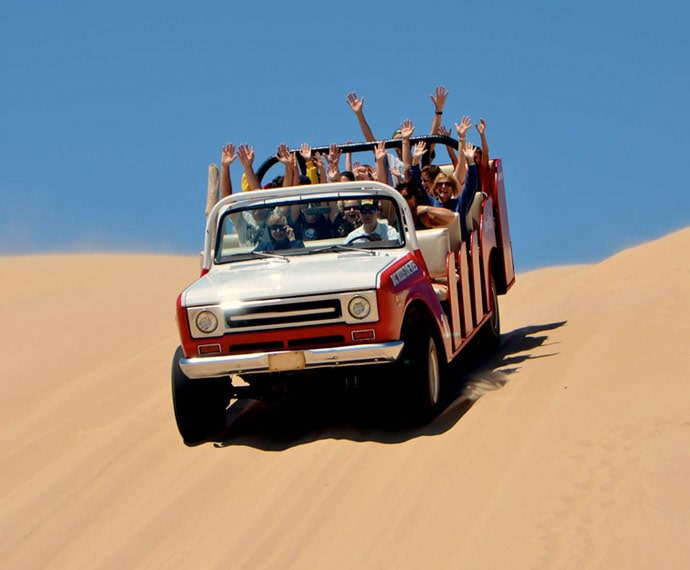 You have arrived! Head over to the dunes to start your big adventure!
Stop #1 Mac Wood's Tour is the classic, not-to-be missed sand dune experience, so of course we will start here. This 40-minute dune tour does not require a reservation, but best to be there early to ensure your spot. Bring your camera and your shades!
Stop #2 Climb the Lighthouse (unless today is Monday, open Tues – Sunday 10-5) The Little Sable Point Lighthouse was built in 1874, burrowed in the sand at Silver Lake State Park is over 100 feet tall and welcomes you to climb all the way to the top. A great way to burn off some energy and work up an appetite.
Stop # Stop for a Snack at The Chicken Shack and try the best ever seasoned rotisserie chicken you've ever had! This family-friendly spot is right downtown in Silver Lake and features open-air seating and live music.
Stop #4 Cruise with Craig for fast paced fun. Craig's Cruisers is open until 10pm, so you have plenty of time for paddle boats, bumper boats, go-karts, slick track, kiddie karts, large arcade, and mini golf on our golf island! Before it gets dark, check out the view of silver lake and the sand dunes from the zip line!
Day Two
Now for something completely different…
Stop #1 Take to the Water with Wave Club Water Sports located on beautiful Silver Lake, enjoy an exhilarating adventure cruising across the surface of Silver Lake in a 4 Winns ski boat or wave runner, or slow it down with kayaks, canoes, a rowboat, or pontoon. Instruction is given with all rental units, so you will know exactly what to do and where to go.
Stop #2 Soak Up the Sun on a Lake Michigan beach and enjoy the clean, crisp water and warm sugar sands. Perfect for sunning and swimming the day away. these freshwater beaches provide endless enjoyment for the whole family.
Stop #3 Head to the Bucket for a great slice! The Bucket Bar at the golden Sands Golf Course features the Beat Herb Crusted Pizza and Bread Bites that you are sure to love. Dine on the patio while enjoying board games for the kids, a large chalk board wall, and even the driving range!
Day Three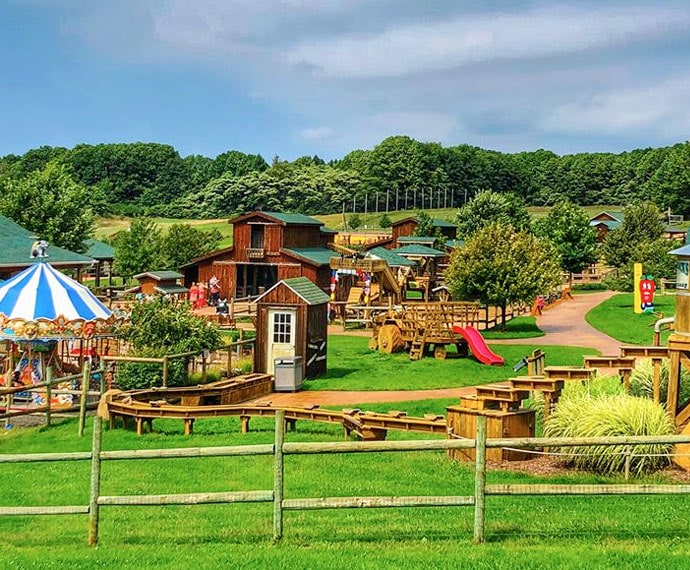 Today we are back on land after a full day on the water. Time to go inland for some exploring of another sort.
Stop #1 Fuel Up at the Pink Elephant Diner. Here you can start your day with the "biggest & bestest" breakfast in West Michigan! Enjoy all of your favorite breakfast foods in this charming local diner.
Stop # 2 Take to the Trail, the Hart-Montague Trail that is. Hike (or bike, if you brought yours) a section of this accessible, paved, 22.5-mile trail covering 225 acres that passes through rural, forested lands, featuring scenic overlooks and picnic areas located along the route.
Stop #3 Visit the Cows at the Country Dairy in New Era is a working dairy farm, milking over a thousand cows daily. They bottle milk on-site and also make cheese, butter, and 32 flavors of hand-dipped ice cream. Such a good spot for an afternoon snack.
Stop #4 Explore Lewis Farm while in New Era. This adventure farm & zoo is a favorite destination for young and old, featuring unique animal encounters to our 46+ fun farm attractions, our family-friendly activities ensure everyone will have things to do!
There you have it….three days full of fun experiencing the unique features of our region from the dunes to the water, and even meeting some cows. The planning has all been done for you.  There isn't a package to buy, this is a self-guided itinerary. You may want to call Wave Club Water Sports if you intend to rent a watercraft, prior to arrival, otherwise no reservations are required. Just pack up the kiddos, your adventure is waiting!
#ThinkDunes
What do YOU love most about the Silver Lake area? Share your shots with the tag #ThinkDunes for a chance to be featured.