Hart-Montague Bike Trail State Park-William Field Memorial Bike Trail
Open:
Spring
Summer
Fall
Winter
Hart, MI 49420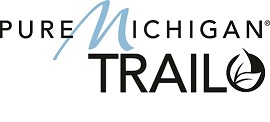 The William Field Memorial Hart-Montague Trail State Park is a paved, 22-mile trail passing through rural, forested lands. Scenic overlooks and picnic areas are located along the route. This is designated a wildlife viewing area.
This is a Pure Michigan Designated Trail
This linear state park, once an extension of the now defunct C&O Railroad line, connects Hart to the twin cities of Montague and Whitehall. Passing through beautiful orchards and woodlands that Oceana County is known for, visitors to the trail will enjoy numerous scenic outlooks, picnic spots, bridges, and water features. There are also opportunities for food and refreshment stops in the towns along the trail.
Activities: Biking, Hiking, Watchable Wildlife, Cross Country Ski, Snowmobiling.
Facilities: No facilities identified
More information at MITrails.org