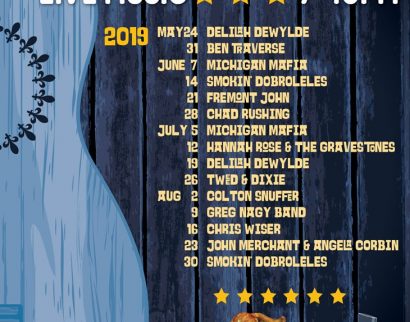 Fox Barn Winery
Enjoy a glass of wine along with an item from the 'Barn Bites' menu on our outdoor patio. Unique wine gift shop along with local food items in an old antique barn.
Live Music Every Friday
Just 1.5 miles south of the Silver Lake Sand Dunes.
Welcome to the Fox Barn!
We have a unique setting within our restored antique barn for you to enjoy. Taste wines at the bar then enjoy your favorite with a 'Barn Bites' food board on the outdoor patio. Enjoy the great selection of wine themed items & take your favorite home. Select fresh produce in season & choose from a variety of specialty foods.
Our family is proud to be part of a rich farming community for 5 generations. Through the years we have seen many changes and are excited about the future. The basis of our business is the care of 2000 acres of land that is ¾ planted to fruit with a little asparagus and the remaining is wood lots that are managed by a forester. Our Farm Market was introduced in 2005 & the Winery added in 2008. This has been quite an adventure & we enjoy sharing it with you.
See you this summer! The Fox Family