A Day in Pentwater
Perhaps the camper is getting too crowded, or maybe you want to step out of the hotel for a little bit. In Pentwater, you can walk the downtown, get a view of the marina, or go on a hike. If you're staying in Silver Lake for a couple days, Pentwater is worth the 15-minute drive for its' cute shops and gorgeous sights.
Wander Downtown
Pentwater has a cute downtown lined with local shops and restaurants. A perfect place to take the kids, Storybrook Village, is a local bookstore, and ranked as one of the top 14 best ever children's bookstores in the United States. Its shelves carry books, board games, and toys. You can find Michigan-themed books like the story of the Petoskey stone, which is a fun way to dive into the state's lore. This bookstore also hosts a variety of events like their "Step Inside a Story" session, Campfire Storytime, and Creative Art and Storytelling workshops.
If you're looking to take home something unique, then a stop in Jilly's Gallery will be worth it. When you first walk in, you'll notice a beautiful glass mural behind the register depicting a Lake Michigan sunset. That's not the only wonder in Jilly's shop, though. Each piece is one of a kind and handmade. If you would like to take home your own piece of glass art, you can either select one from the shop, or create one yourself. Jilly also offers glass classes. You can create an ornament, sun catcher, or 5×5 plate.
Take a Hike
Pentwater is also an excellent place to get outdoors. The town is right next to Lake Michigan, so you can be sure to get your beach-combing in! Along with the sandy shores is Pentwater Pathways. In the summer, these trails are perfect for hiking and biking. If you're brave enough to venture in the winter, then you can go cross-country skiing. Pentwater Pathways has 4 trail systems for a total of 15 miles. Enjoy pure Michigan while you're taking a hike in Pentwater.
Fresh Produce
 Get your fix of freshness in at Pentwater. Every Monday through Thursday from 10 am to 1 pm is the Pentwater Farmer's Market. You can find flowers, jam, baked goods, fruit, and so many more yummy items to fill your stomach. There are plenty of local and organic items to enjoy. Your mouth may start watering as you stroll through the vendors on the Village Green.
Stay Awhile
If you love Pentwater so much you don't want to leave, we understand! You have plenty of options for an overnight stay. If you would like a hotel stay, then Days Inn Pentwater is the place for you. With an indoor pool and hot tub, it's a great place to getaway.
If you're looking to camp in Pentwater, then you should check out Lake Michigan Camp & Retreat. This campground is focused on family and groups. You can glamp at the park and walk along the beach to take in a beautiful Lake Michigan sunset. There's kayaking, mini golf, and games to enjoy. You can take a look at their website to find availability. If the kids are looking for something to do this summer, then maybe Lake Michigan Camp & Retreats summer camps are from them- available for elementary kids, middle school students, and high schoolers.
Rent a cottage with Anchor Summer Rentals LLC! You can find cottages to rent for a three-night minimum, a few weeks, or the whole season. You can find cottage rentals in Pentwater and Silver Lake; there are multiple cute properties to choose from.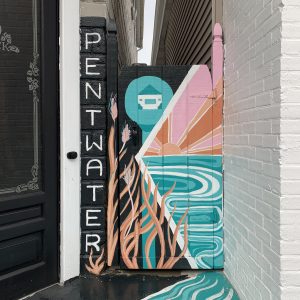 #ThinkDunes
What do YOU love most about the Silver Lake area? Share your shots with the tag #ThinkDunes for a chance to be featured.