Two-Day Fall Getaway
Two-Day Fall Getaway to Silver Lake
When we think of Silver Lake, we often think of summer days full of sun and sand. As we reach the end of the summer season, the days grow shorter and the weather a bit crisper, but there is still plenty of time to explore all of the great things to see and do during the fall season at Silver Lake. Let our 2-day fall getaway be your guide for planning the perfect escape for two, or even invite a couple friends to come along on your adventure.
Before you head to Silver Lake, you will want to plan your stay. Silver Lake has accommodations of every sort, but it is always best to plan ahead and reserve your perfect spot.
Day One
Your first day is full of exploration as you wind through roads dressed in fall color throughout Oceana & Mason Counties following a trail of popular beer and wine stops, as well as local orchards featuring fall harvest favorites.
We welcome you to follow a trail of great spots to experience fall splendor.  You will find multiple vineyards and orchards that thrive from the unique climate of the coastal region, and creative brews made locally by brewer masters dedicated to their craft. Choose a few, or stop by all, to enjoy a true taste of the region with hand-crafted beverages, fall harvest produce, and fine local fare.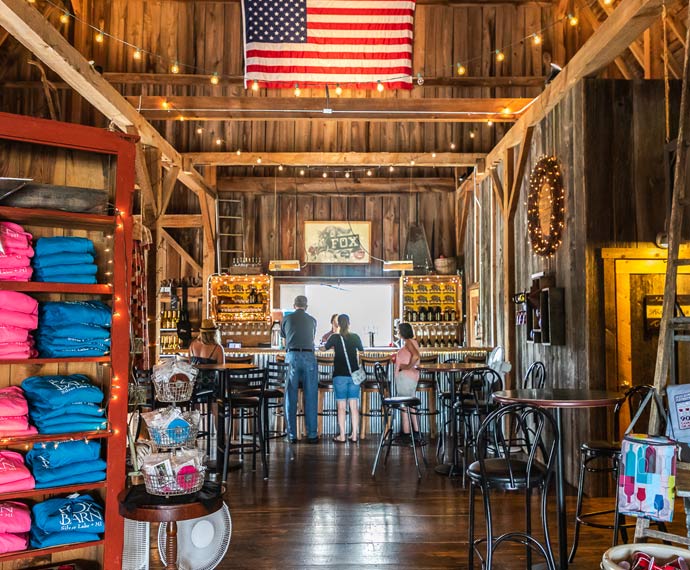 Big Hart Brew – Located in Hart, Big Hart Brew offers an eclectic mix of craft brews and wines for every thirsty traveler. Their selection is sure to inspire Michigan wine connoisseurs and craft beer fans to keep coming back for more.
Rennhack Orchard Market – This orchard and market grows and hand-harvests flavorful fruits and vegetables and feature pantry products made in Michigan, including award-winning maple syrup, raw honey, jams, salsa, toppings, and more.
The Fox Barn Marketplace & Winery – Just 1.5 miles from the sand dune area, The Fox Barn produces quality wines and ciders made from the fruits of their own orchards.  Enjoy their unique setting within a restored antique barn where you can enjoy wines and 'Barn Bites' on the outdoor patio.
Woodland Farm Market – May through December, Woodland Farm Market is a "must stop" on your way to the Silver Lake Sand Dunes.  Come in and experience the aroma of homemade goodness and our award-winning pies and famous apple fritters, made from scratch.
Ludington Bay – A little further north are several stops, starting with Ludington Bay. Share a memorable dining experience over a well-poured pint. The taproom has 24 beers on tap, brewed right in Ludington, add great food and live music, and you have a fantastic blend of amenities to make your stop at Ludington Bay unforgettable.
Jamesport Brewing Co. – Located in Downtown Ludington, Jamesport Brewing Co. offers a destination and culture that celebrates craft beer, as well as artisan wine and fine spirits from all around Michigan.  Also enjoy live music and special events each week.
The Mitten Bar – With 12 Michigan's legendary beers and spirits on tap, The Mitten Bar celebrates our community and the great state of Michigan.  Live music and special, weekly events are what makes the Mitten a not to miss Ludington destination.
Love Wine – Ludington is home to an urban, custom crush winery, producing award-winning Michigan wines on the shoreline of Lake Michigan.  Visit the tasting room and winery to learn about the winemaking process from harvest to fermenting and hand-crafted bottling.
Day Two
Today is all about experiencing the rich fall color from a different perspective, from the sand, the trails or high above the water. No matter which view you choose, you are sure to experience a purely Silver Lake fall adventure.
For the first timer, or even those with a bit of dune experience, Silver Lake is home to experienced dune rental outfitters that will make your day on the sand both a safe and memorable experience. Silver Lake Sand Dunes and the rental businesses listed below, are open through the fall season until October 31st.
            Silverback Off-Road ORV Rental Hourly rental of ATVs, UTVs, and Jeeps
            SunBuggy Silver Lake ORV Rentals Offering both off-road rentals and guided tours
Not ready to take on the dunes for a solo ride? MacWood Dune Ride (open through October 2nd) is one of Silver Lake's most popular attractions, delivering a fun-filled dune ride over our beautiful sand dunes.  You won't soon forget breathtaking panoramic views from the summit of the dune area.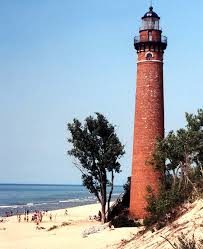 Atop a Lighthouse Our area boasts 4 iconic lighthouses. Choose one or go see them all.
The Little Sable Point Lighthouse at Silver Lake State Park (Open until September 18) was built in 1874, burrowed in the sand, it stands over 100 feet tall and welcomes you to climb all the way to the top. A great way to see the fall colors for way up high.
White River Light Station (Open until October 25) In 1870, a channel was dug between Lake Michigan and White Lake to allow lake access for lumber schooners. This beautiful brick light station that was built serve mariners and travelers to the area, opened as a museum in 1970. You can climb to the top of the tower or wander the museum and grounds.
The Big Sable Point Lighthouse at Ludington State Park (Open until October 24) Nestled among jack pines, just a quick 2-mile walk along a breathtaking trail, stands Big Sable's noble 100 ft. black and white tower.  Visitors are welcome to explore the grounds, tour the original Keeper's Quarters which have been converted into a Gift Shop, stroll along the sand dunes or climb the tower.
Ludington North Breakwater Light (Only open until September 5th) Next, follow the shoreline from Big Sable to the Ludington North Breakwater Light. Built in 1924, this beacon boasts a vibrant green light from its tower. You will find this lighthouse at the end of a half mile walk down the pier, although not open late into the season, if weather allows, you can view its majesty from the pier.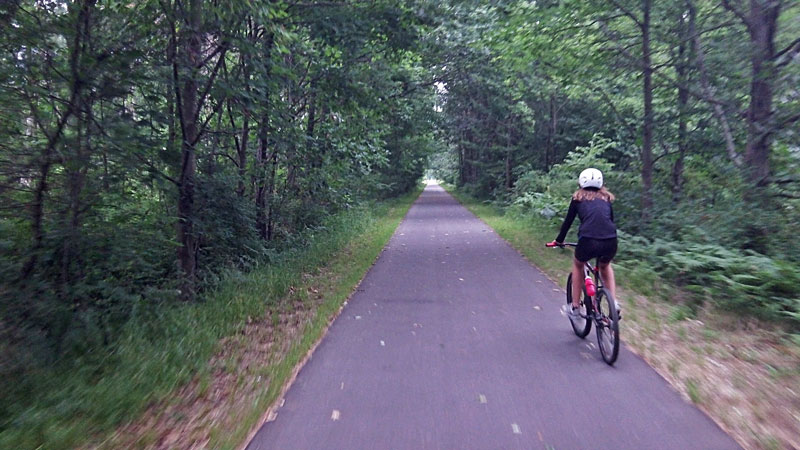 Silver Lake is home to 30+ miles of regional trail network and county parks for reconnecting with nature on hiking and biking trails. Just a short drive from the dunes, you will find our parks and trails that lead you to sandy Lake Michigan beaches, inland lakes and rivers, a 22-mile paved rail trail, a mountain bike trail, wetlands for bird watching, and handicap-accessible nature preserves.
Pentwater Pathways Explore this 15-mile trail network with varied loop difficulty with mostly slow-rolling hills offering a fall color view from beneath the trees.
Hart-Montague Bicycle Trail is an accessible, paved, 22.5-mile trail covering 225 acres that passes through rural, forested lands, featuring scenic overlooks and picnic areas located along the route.
The time is now to start planning your visit to the Silver Lake & Hart area for a costal fall color tour experience. Whether you come for two days, or have time to stay a bit longer, you will find our region full of ways to enjoy Michigan's colorful fall season.