A Little Bit of Dune History
Dune History
The history of Silver Lake Sand Dunes began in 1920, when Carrie E. Mears, the daughter of lumber baron Charles Mears, donated 25 acres on the east side of Silver Lake for park purposes. In 1926, the federal government transferred 900 acres of land to the state, which then became Sand Dunes State Park in 1949.
Based upon a 1949 master plan, Sand Dunes State Park merged with Silver Lake State Park and the new boundaries were dedicated in 1951. The park activities are not just limited to ORV, but also include: camping, hunting, swimming, hiking, boating, fishing, beach going, and picnicking.
Interesting Dune Facts:
The Dunes consist of about 2,936 acres, of which 1,875 acres are public land.
The Park is spread across an area approximately 3 miles long and 1.5 miles wide.
The sand deposits on the dunes are one of the largest deposits of living dunes in all of Michigan.
The Dunes can change drastically from day to day, even hour by hour, depending on the severity of the weather.
Located near the southwest corner of Silver Lake State Park is the Little Sable Point Lighthouse. Built in 1874, the lighthouse is over 100 feet tall, one of the tallest lighthouses in Michigan.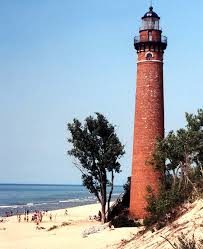 Little Sable Lighthouse
In 1871, it was determined by the Light House Board that a new lake-coast light was needed, and Congress appropriated $35,000 for the lighthouse on June 10, 1872. Over forty acres of what was public land was set aside by President Ulysses S. Grant and in April of 1873 construction began.
Once the foundation was prepared, work began on the brick tower, which grew to a height of roughly 100 feet. The tower housed lantern room which was installed to house a third-order Fresnel lens. Every eleven hours, the keepers would wind a 90-pound weight that was suspended between the tower's inner and outer walls to power the revolving mechanism. A covered way connected the base of the tower to a twelve-room, 2½-story dwelling, built for the light's two resident keepers.
In more recent history, in 2005, the Michigan Department of Natural Resources leased the lighthouse to the Big Sable Point Lighthouse Keepers Association. The 25-year lease allowed the group to open the tower to the public for the first time since the late 1940s. Big Sable Point Lighthouse Keepers later changed their name to Sable Points Lighthouse Keepers Association to reflect their expanding role in overseeing multiple lighthouses.
History of the lighthouse adapted from the website: www.lighthousefriends.com