Festivals & Events

Pentwater 33rd Annual Fall Festival
September 23 @ 10:00 am

-

September 24 @ 3:00 pm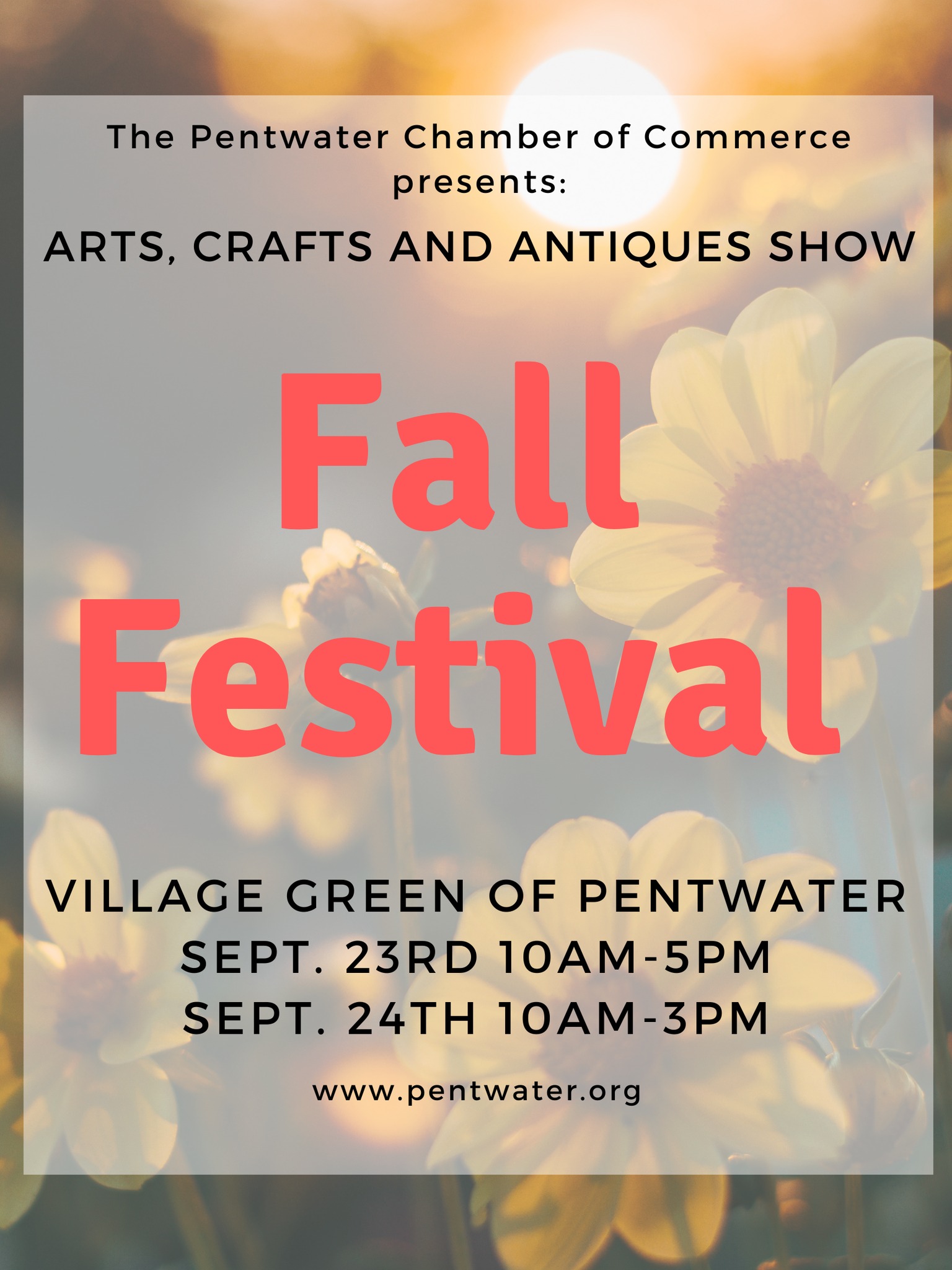 PENTWATER, Michigan – September 5, 2023 – Get ready for a weekend filled with artistry, craftsmanship, and vintage treasures as the Pentwater Chamber of Commerce proudly hosts the 33rd Annual Fall Fest Arts, Crafts & Antiques Show on September 23rd and 24th. This beloved event will transform the serene Village Green in Pentwater into a vibrant showcase of creativity and history.

Date & Time:

·    Saturday, September 23rd: 10:00 AM – 5:00 PM

·    Sunday, September 24th: 10:00 AM – 3:00 PM

Location:

Village Green, 231 S. Hancock St., Pentwater, MI

For over three decades, the Fall Fest Arts, Crafts & Antiques Show has been a highlight on the local calendar, drawing both residents and visitors to Pentwater. This two-day extravaganza promises a diverse array of art, crafts, and antiques, set against the picturesque backdrop of the Village Green.

Kick-Off Weekend – Harvest Day at the Farmers Market:

To kick off this exciting weekend, we invite you to join us on Thursday, September 21st from 10 AM-1 PM on the Village Green in downtown Pentwater, for the last Farmers Market of the season, known as Harvest Day.

What to Expect:

·    Art & Craft Extravaganza: More than 100 talented craftspeople, artists, and antique dealers will gather to display their wares. Explore and shop for furniture, fall decor, pottery, hand-woven accessories, jewelry, linens, glass art, sculptures, photography, paintings, and an array of unique creations.

·    Delicious Refreshments: While you browse and shop, indulge in a variety of delicious refreshments and food offerings. The Pentwater Service Club will operate their traditional Duncan Wagon, serving hot dogs, brats, and more. Meanwhile, the Pentwater Fire Department will tantalize your taste buds with their BBQ treats. By supporting these organizations, you're contributing to our community's well-being.

·    Pentwater Artisan Center Raffle: Don't miss the chance to participate in the Pentwater Artisan Center's raffle, featuring one-of-a-kind pieces created by the Center's talented members throughout the year. Your participation helps fund this fantastic artistic endeavor.

In addition to the show, we invite you to explore Pentwater's unique downtown shops and savor the delights at our local restaurants. Pentwater offers a complete experience for all your senses.

Join us at the 33rd Annual Fall Fest Arts, Crafts & Antiques Show for a weekend of art, culture, and community spirit. Save the date, invite your friends and family, and make it a memorable weekend in Pentwater.

For more information about the event, please visit www.pentwater.org, contact events@pentwater.org.