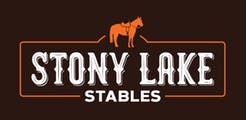 Stony Lake Stables
Jeff Bays, Owner
Celebrating 71 years of family enjoyment – welcome to Sony Lake Stables (formerly Rainbow Ranch Inc).  Family owned and operated since 1949, we have provided quality horseback riding, traveling pony rides, hay rides and sleigh rides to generations of families.
We hope you'll find the information on this website helpful in planning your family vacation or special group outing.  Remember, we cater to families with kids and church, school and scout groups.  We will trot and/or canter depending on your riding experience for brief periods throughout your ride but the majority of the time will be spent walking.
Thank you for your interest in Stony Lake Stables and we look forward to earning your business!
Owned by the same family since 1949, Stony Lake Stables is yours to enjoy. Nothing compares to the natural beauty of West Michigan on horseback. If you love woodland scenery, river trails, wildlife and horses, we invite you to experience them in abundance at Stony Lake Stables. We offer horseback riding, riding lessons, specialty rides, hay rides, sleigh rides, carriage rides, traveling pony rides, wedding carriages, party facilities, and deer hunting. No stress, phones or traffic – just the creaking of saddle leather and the smell of clean fresh air. Please visitour website at- www.stonylakestables.com
or call 231-861-4445 for more information. You can also book online on our website.
From our family to yours.
Open during winter for  sleigh rides with appointment.
We have started a 501c3 non-for-profit called Stony Lake Therapeutic Riding Center.  We will break ground in March on a new 62′ x 120′ indoor riding arena and therapy is scheduled to begin June 2020