Calling All Snowmobilers! Where to Ride Near Silver Lake
Hey snowmobilers! Ready for a legendary trip this winter season?
It all starts right here in our very own winter wonderland. The Silver Lake area boasts miles upon miles of well-groomed trails and spectacular views — plus great places to eat and hang your helmet at night. As one of the most popular snowmobile destinations in the state, it's the perfect place for your next trip.
So, what are you waiting for? Let's start planning!
Where to Ride
Hart-Montague Trail 19
During the spring, summer, and fall, the Hart-Montague Trail 19 is a 22-mile paved recreational pathway for bikers, walkers, and runners. But from December 1st until March 31st, it's a snowmobiler's dream.
This quick trail features gently rolling hills, stunning scenic landscapes, and plenty of conveniently-located food and gas station stops along the way. It is well-groomed and maintained, offering smooth and enjoyable rides all winter long. Before heading out, just be sure to check the local weather conditions and trail reports. As with most trails, a minimum of 6 inches of snow must be on the ground for the trail to be open. Snowmobilers must also have trail permits, which can be easily purchased online or at local retailers such as Larson & Son Ace Hardware.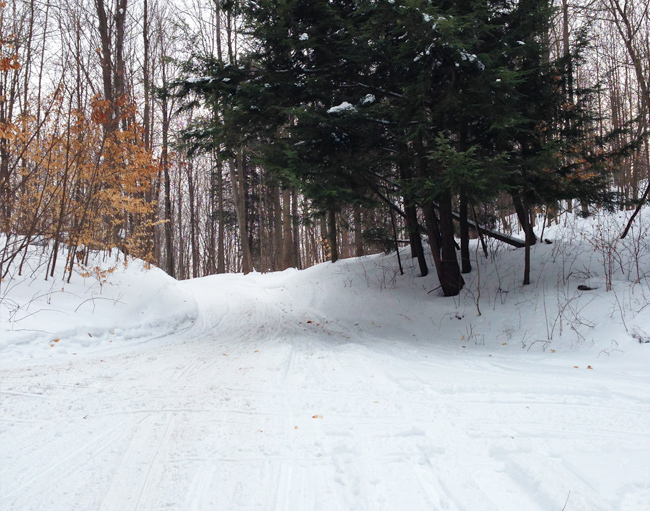 New! Oceana Connector Trail (Trail 320)
The Hart-Montague Trail 19 now officially connects with adjacent snowmobile trail networks to the east and north. The new trail making this link has suitably been called the Oceana Connector Trail or Trail 320.
Trail 320 ties together the Trail 19 with Baldwin area trails to the east. These, in turn, connect to Cadillac and other northerly trail systems that extend into the Traverse City area.
Locally, Trail 320 begins in Hart, just off Polk Road between McDonald's and the US-31 northbound on-ramp. To transfer from Trail 19 to the new Oceana Connector Trail, simply exit Trail 19 near the Dunes Express Inn & Suites and cross Polk Road.
The Oceana Connector Trail offers the perfect opportunity for larger scale snowmobile trips throughout the great expanse of Northern Michigan. Like Trail 19, it will also be well-groomed all season long and feature easy-to-read signage to help snowmobilers navigate safely.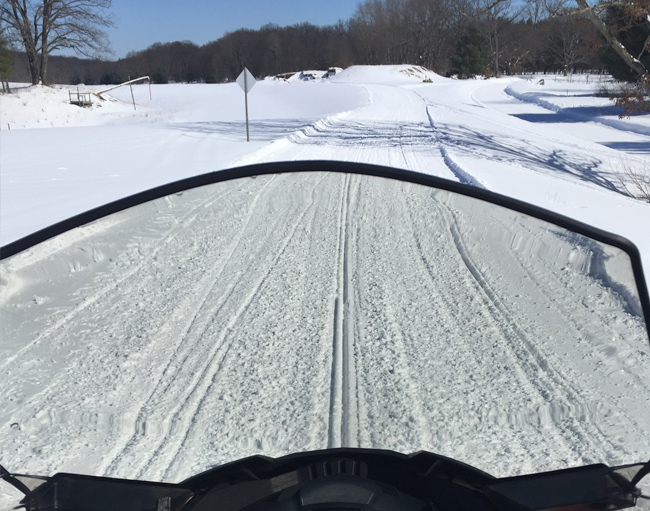 Key Tips for Planning Your West Michigan Snowmobile Outing
Be sure to stay on-trail as you ride.
Our local trails are unique in that a number of stretches go through or run adjacent to farmland and private property. This offers riders a unique glimpse of the picturesque orchards, fields, and backcountry of West Michigan. But it also means that going off-trail could ruin newly planted fruit and evergreen saplings that local farmers and landowners rely on. Just be sure to follow all signage and respect gates and barriers, and you'll be good to go.
Check out the new interactive snowmobile map from the DNR.
The Michigan DNR recently released an interactive snowmobile trail map with which you can see a clear layout of trails currently designated as official Snowmobile Trails by the DNR. You can also search for trails by location or name, find local snowmobile clubs, download .gpx data, print your own custom-made PDF maps, see up-to-date trail closures, and much more.
Plan your meals and hotel stays close by.
You'll find plenty of excellent places to stop for gas, a bite to eat, or a warm bed in the Silver Lake area. Dunes Express Inn & Suites is an ideal place to stay when passing through Hart as it's very near the new Trail 320 trailhead. It's also close to local grocery stores, gas stations, and restaurants. While indoor dining is still not allowed, local restaurants have come up with ingenious ways to offer ever-delicious outdoor dining and takeout options even in the winter season.
Your Winter Adventure Awaits!
This January or February, be one of the first to travel directly from Hart to Traverse City on unbroken trail, or just come for a full day of fun in our neck of the woods. Either way, we welcome you to enjoy all that the Hart and Silver Lake area has to offer this winter season!