Little Bit of Local: Mac Dunes
One of the oldest family businesses in the area is Mac Dunes. They have been around for 92 seasons now. If you're in Silver Lake, going on one of their 40-minute rides is a something that you need to cross of your SLSD bucket list.
Mac Dunes started in 1930 when Mac Woods needed a way to entertain guests as the operator of Flora-Dale Resort. Thus, the dune scooter rides began and turned into a full time business.
The route begins by taking you across Termite Bridge- not to worry, though, it's perfectly stable. You'll head up into their groomed trail that takes you up and down the dunes. Occasionally, the driver will stop and give you information about the dunes including their history and geographical make up. In the middle of the journey, you will have to chance to take pictures along the shoreline of Lake Michigan. A Mac Woods dune ride is well-worth it for the views of the water and the sand. Pro tip: hold onto your hat (or don't wear one) because the ride won't stop!
In their store, you will find some of the business' history including samples of fulgurite. Fulgurite is made from the lightening striking the sand. The shape of the fulgurite depends on how the lightning hits the sand. At Mac Woods, you can find ones of the largest displays of this natural creation- including one that is nine feet long!
This summer, Mac Woods had some special guests. The University of Michigan football team visited Silver Lake on their tour of Michigan. The team went on a ride to see more of the mitten and to get some team bonding in. Afterwards, they headed out to do some community service in Idlewild. Mac Woods Dune Rides was an excellent way to kick off a tour of Northern Michigan.
This business has a rich history in Silver Lake, and it has some exciting stories and visitors to go with it! Mac Woods Dune Rides is the perfect way to start a family vacation and to learn more about the area.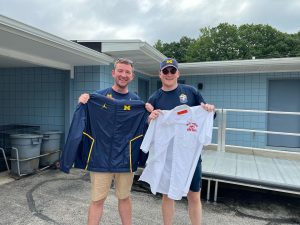 Picture: @atalmadge21
Cover photo: @littlelillsphotography
#ThinkDunes
What do YOU love most about the Silver Lake area? Share your shots with the tag #ThinkDunes for a chance to be featured.