S.A.N.D. & Be Safe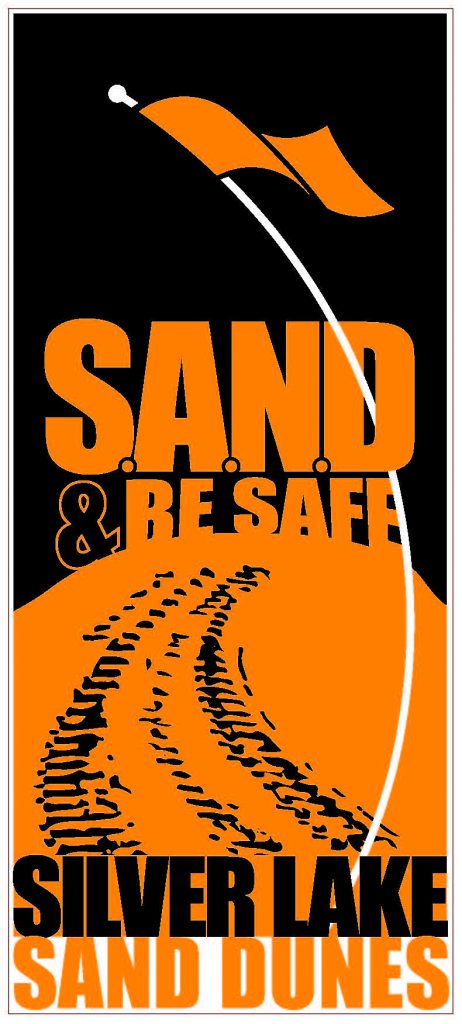 The Silver Lake & Hart Visitor's Bureau & Chamber of Commerce, in communication with local partners are working together to safeguard Michigan's premier destination for ORV adventure, Silver Lake Sand Dunes.
Sharing in the awareness of best safety practices, together we can support long-term preservation of the unique ORV dune activities that attract approximately 850,000 visitors to Silver Lake State Park each year.
What does S.A.N.D. stand for?
Stop….Assess….Note….Drive, the S.A.N.D. acronym was designed to help dune visitors keep safety at top of mind. Each letter intends to remind us of the things we all need to do to keep each other safe.
S – Stop & Think – Pause for a moment, take another peek at the map. Have a plan of attack before getting in on the action.
A – Assess the Situation – Weather and wind change the dunes daily, and sometimes hourly. Before you rev it up, do a slow lap to get the lay of the land.
N – Note Your Surroundings – Everyone is here to have a great time. Some are risk takers and others are just puttering along. Overconfidence can be dangerous. Keep an eye out before making any quick moves.
D – Drive Safely – Be careful out there, and get ready for some fast-paced, free roaming fun on the unrivaled dunes of Silver Lake!
Learn all about ways to prepare for the best possible day on the sand.
DNR Dune Rules
The Silver Lake State Park ORV area has adopted new rules that apply to Sound Levels and Testing, the Voucher System, and Operators and Licensing and Training Requirements (see below). Entry into the ORV area will be denied for vehicles not meeting these standards. A complete list of current rules and regulations is available from the Michigan DNR website.
Only one person is allowed to ride on an ATV-4 wheel vehicle or dirt bike
S.A.N.D. Rules
Wrong Way
There are directional traffic zones that you need to be aware of. You can find a map of the off-road vehicle area at www.michigan.gov/dnr. Please respect these areas and orientate yourself prior to riding.
Topographical Changes
Silver Lake Sand Dunes can change drastically from day to day, even hour by hour, depending on the severity of the weather. Be on the watch for steep inclines, changing slopes, natural hazards, and/or sudden drop-offs.
Where Am I?
Review the ORV map prior to riding. Drive throughout the area and be sure to slow down as you approach the top of the hills. Travel the Dunes in its entirety and get a feel for north, south, west, and east. Do not park or stop your ORV on the backside of a hill.
Driving Alone
This one is simple; if possible, don't do it. Have someone accompany you so that if an accident occurs, someone is there to seek help immediately. If you know a seasoned operator, have them take you up and show you around first.
Fast and Furious
The beach area has a designated speed limit of 25mph. Other areas do not. Exercising common sense and adopting an operating speed that you can control goes a long way. Extend courtesy to fellow operators and provide a safer environment for everyone involved.
Licensed
A valid driver's license or ORV Safety Training Certificate must be in the operator's possession at all times. Persons may not operate any vehicles if their license is suspended or revoked. Learn more.
Busy, Busy, Busy
Just like with any major highway or roadway, generally speaking, the more operators you have, the higher the level of risk. You need to be more aware of your surroundings and drive defensively on major holidays and during the peak season, which is typically mid-June through Labor Day.
What to Wear
It is imperative that you follow strict safety measures when operating your ORV. General ATV and cycle riding gear includes: helmet, goggles, gloves, chest protector, riding boots, shoulder guards, elbow guards, long pants, knee pads, and shin guards. Full-sized vehicles require seat belts, roll bars, and eye protection.
Under the Influence
Do not, at any time, operate your ORV under the influence of drugs or alcohol. Violation of this rule or any others may subject operators to court citation, eviction, and/or vehicle(s) impoundment.
Know Your Dunes
Do your homework. Challenge businesses in the community to help you with your experience or answer questions. Look for businesses that promote the "Drive Safe, Know Your Dunes" campaign.
S.A.N.D. & be safe out there!
*S.A.N.D and its members assume no responsibility or liability for personal injury or property damage arising out of the interpretation or use of information provided in our safety campaign.
Visit Our Site