Festivals & Events

Dune Spring clean-up day
April 6, 2019 @ 7:00 am

-

10:00 am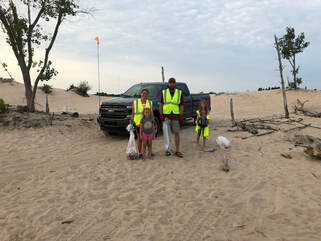 PLEASE SHARE THIS ON YOUR WALL!
Register to volunteer here and receive a special gift! Thank you!
https://www.slra.org/volunteer.html
We have applied and been approved for two clean up days on the dunes this year – one in the Spring and the other towards the Fall. We feel these events are one of the most critical and important things we can do to preserve the cleanliness and natural beauty of the #SilverLakeSandDunes.
The upcoming Spring clean-up day is April 6, 2019 with a rain date of April 13, 2019.
We will be meeting at the flag check booth near the dune entrance ramp at 7am and will work until 10am.
*A FREE lunch will be provided by the SLRA and DNR teams afterwards at DuneLand Off-Road Center.
Our clean-up day events are open to anyone that is interested in helping and all ages are welcome with parent or guardian. We have a lot of fun and laughs doing this, where we award fun prizes for the biggest, the most unique and the most piece(s) of junk collected! Please consider volunteering for one or both of these days and help us keep our dunes clean!
#DuneCleanUp #SLRA #SilverLake #CleanUp #Share #DNR #SLSP#SLSD